If you are still organizing apps and windows in an old-fashioned way, there is a good chance that you are yet to get the most out of Stage Manager on your Mac. Aside from automatically organizing apps, this productivity-defining feature lets you switch between recent widows with utmost ease.
Hence, for times when you need to amp up multitasking, you won't have to spend plenty of time switching windows. For a more personalized experience, you can change Stage Manager on Mac. And that's exactly what I'm going to show you in this hands-on guide!
How to Customize Stage Manager Settings on Mac
From letting you permanently show recent apps to keeping desktop items always visible to restricting Stage Manager to display just one window from an app, Mac offers you a fair amount of flexibility in customization. Should you wish to take the customization even further, we've talked about a couple of handy tips to spice up the whole affair.
To get going, open the System Settings app on your macOS device. Alternatively, click on the Apple menu shown at the upper left corner of the screen.
Now, you need to scroll down a bit and tap the Desktop & Dock option.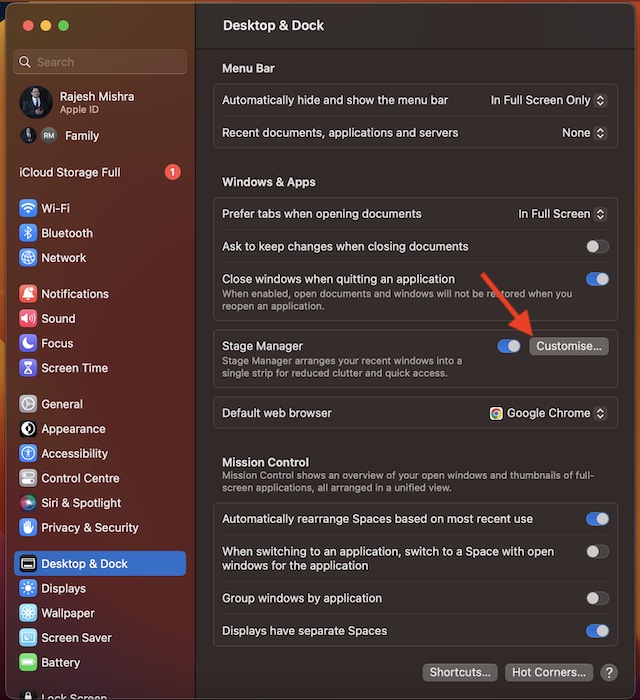 Next, go to the Stage Manager section and turn on the toggle. 
After that, tap on Customize.
Recent applications: Stage Manager keeps thumbnails of apps hidden. Though macOS allows you to instantly reveal the thumbnails by moving the pointer toward the edge of the screen, some of you may want to permanently show the recent apps. If you are one of them, turn on the toggle for Recent applications.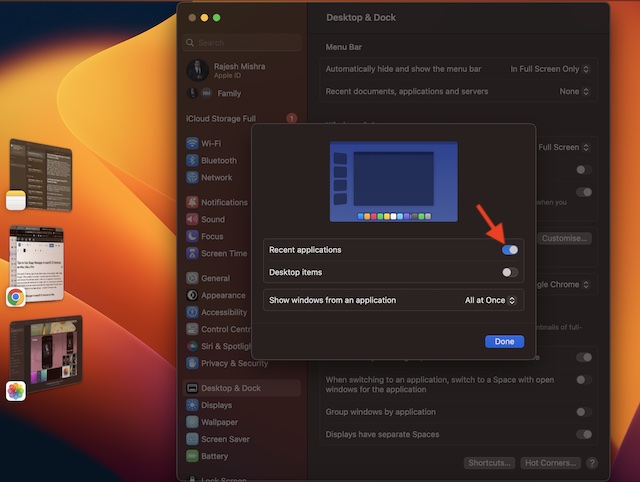 Desktop items: When you activate Stage Manager, all the desktop items go into hiding. However, you can reveal them by clicking on the screen. Should you need to keep the desktop items always visible, turn on the switch for Desktop items.
Show windows from an application: By default, Stage Manager displays all the windows from an app simultaneously. Though you can prevent Stage Manager from doing so and allow it to show just one window from an app. To do so, click on the drop-drop menu next to All at Once and choose One at a Time.
If you prefer to keep icons in the menu bar for quicker access, you would be glad to know that macOS allows you to show the Stage Manager icon in Mac's menu bar. 
Just click on the Control Center icon -> drag the Stage Manager icon and drop it in the menu bar.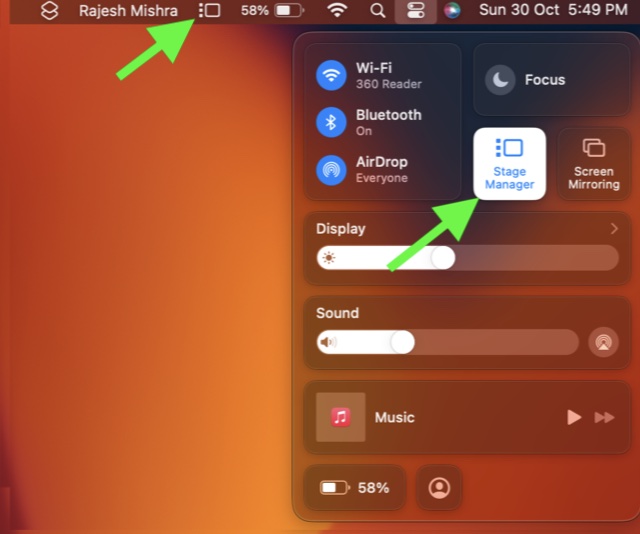 Another way to do it is to go to the System Settings app -> Control Center -> Stage Manager -> Show in Menu Bar. 
Create a Keyboard Shortcut to Quickly Enable/Disable Stage Manager 
If you are fond of keyboard shortcuts, you would love to create a shortcut to enable/disable Stage Manager quickly on Mac. 
To do so, open the System Settings app on your Mac -> Keyboard -> Keyboard Shortcuts -> Mission Control -> double-click on none next to Turn On/Off Stage Manager -> press the keys (for example, CMD+K) that you would like to use and click on Done to finish.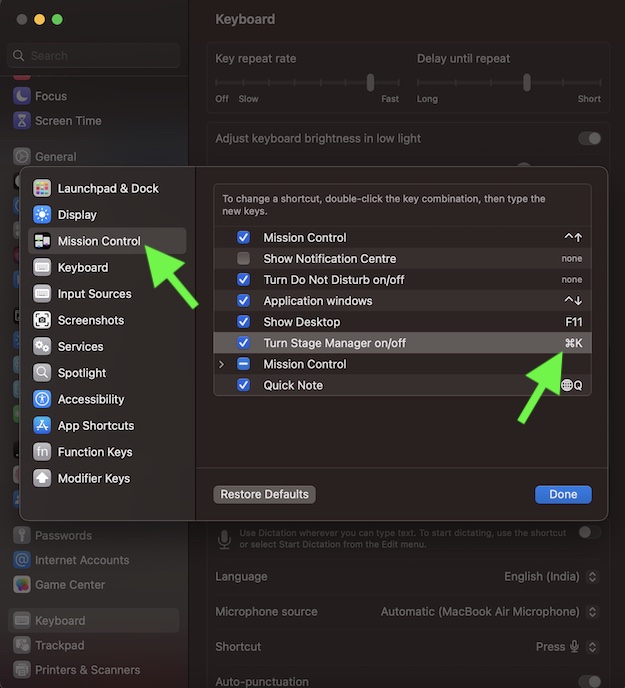 Wrapping Up…
That's it! So, that's how you can customize and use Stage Manager to your heart's liking on Mac. I guess you are now pretty familiar with this neat windows organizer. If you still have any doubts or questions related to this feature, do not forget to share them in the comments section below.