While the market is flooded with a ton of data recovery software packages, very few of them are worth your money. Many data recovery tools badly fail to live up to the tall claim and leave you disappointed with more questions than answers.
Fortunately, you will no longer have to rely on third-party data recovery tools to retrieve accidentally deleted messages on iOS as Apple has come up with a native solution that works like a charm.
So, if you have mistakenly deleted some important messages and are looking for a way to get them back without any hassle, here is how you can recover messages on iPhone.
How Does Apple's Messages Recovery Tool Work on iPhone?
Wondering how Apple's all-new messages recovery feature works on iPhone? Fret not, let's understand it first! 
When you delete any messages on your iPhone, they are automatically stored in a folder called "Recently Deleted". Your deleted messages continue to exist in the folder for up to 30 days. After that, those messages are permanently wiped out. 
Note that in some cases, it may take up to 40 days to permanently erase certain messages. Each deleted messages show the number of days remaining before the permanent deletion. 
Apple allows you to recover both specific and all the recently deleted messages at once. Hence, if you ever happen to wipe out a cluster of messages while cleaning up the storage on your device, you no longer need to bother about losing your messages for good or having to spend money to retrieve them.
In terms of ease of use and importance, this feature is in line with the ability to unsend and edit messages that have also made their way on iPhone.
Recover Specific Deleted Messages on iPhone
1. On your iPhone or iPad, open the Messages app.
2. Tap on Filters at the upper left corner of the screen.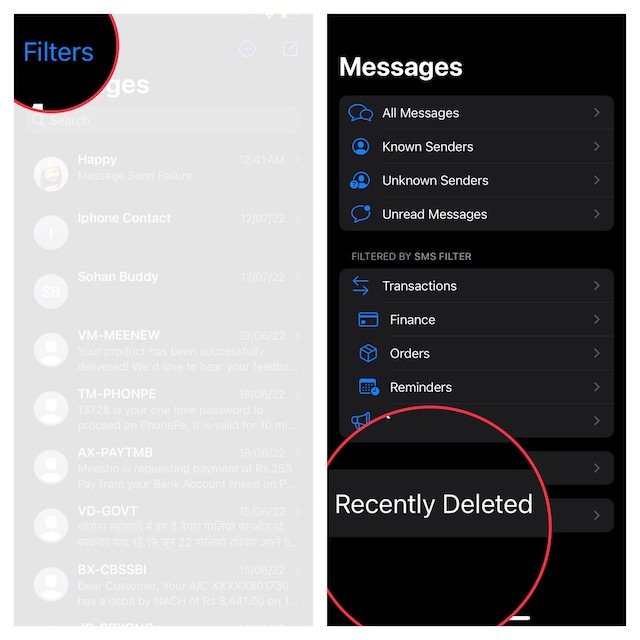 3. Tap on Recently Deleted.
4. Now, select the messages you want to restore and hit Recover at the bottom.
5. A popup will now appear from the bottom asking you to confirm the action. Make sure to tap on Recover X (number) Messages to finish.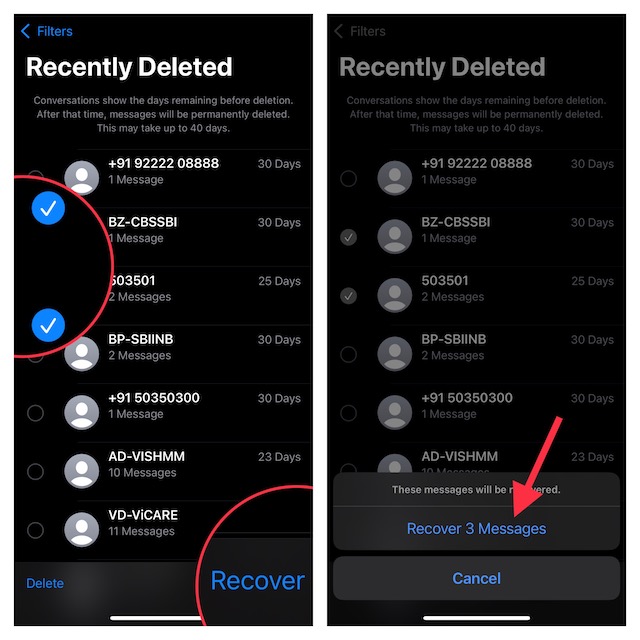 That's it! Your deleted messages will once again start showing in the same conversation thread. So, you can head over to the chat thread to check them.
Recover All Recently Deleted Messages at Once on Your iPhone
Restoring entire recently deleted messages is just as straightforward.
1. Launch the Settings app on your device > Filters > Recently Deleted.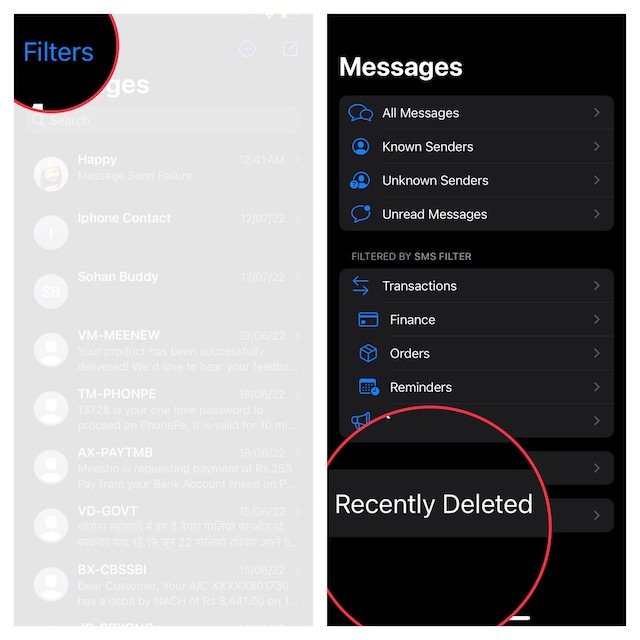 2. Now, tap on Recover All at the bottom right corner of the screen.
3. Once again, a popup will show up from the bottom of the screen asking for your confirmation. Be sure to tap on Recover X (Number) Messages to confirm the action.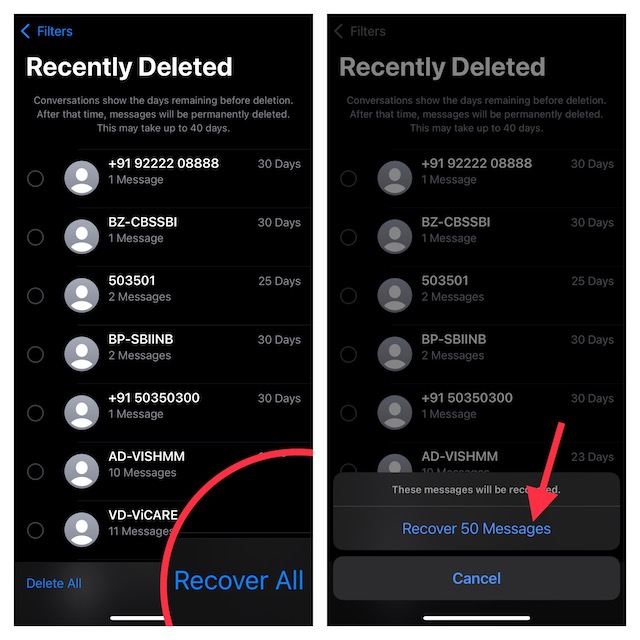 Recover All of Your Mistakenly Deleted Messages on iPhone Without Any Pain
So, that's how Apple's all-new Message recovery feature works. Having tested this feature several times, I can vouch for its efficiency. It functions without any blemish. Whether you want to restore a single message or get back the entire cluster of deleted messages, it will not let you down.
That said, what's your take on this useful feature? It would be great to have your thoughts in the comments below.