No matter how stunning a video is, unwanted background noise can completely ruin it. Hence, you should never fail to suppress the background noise before sharing your clip with a friend or uploading it on a social networking site.
The good thing is it's much easier to do than many folks think. Hence, even if you are not a pro, you can enhance your video with ease. On this very note, let's learn how to reduce background noise in video on Mac.
How Do You Remove Background Noise from Video on Mac? 
To begin with, let's understand how the background noise removal tool works on macOS! If all you need is a decent video editing app with all the basic tools to let you create nice-looking videos, iMovie has got you fully covered.
Whether you are a social media buff who loves to make eye-catching clips or a digital creator who enjoys sharing vlogs, Apple's video editing app should live up to the task with very few complaints thanks to a pretty solid library of tools including the neat noise reduction feature.
iMovie allows you to suppress the background noise in a video with the desired precision. What's more, you can also use the equalizer to enhance voice, music, and reduce hum noise.
Suppress Background Noise in Video Using iMovie on Mac
1. To get started, ensure that you have already installed iMovie on your Mac. Open the iMovie app on your Mac.
2. Now, bring the video to the timeline and select it. 
3. Next, click the Noise Reduction and Equalizer icon that shows right above the Viewer.
4. After that, check the box for Reduce background noise. Then, drag the slider for the percentage of reduction you would like to apply.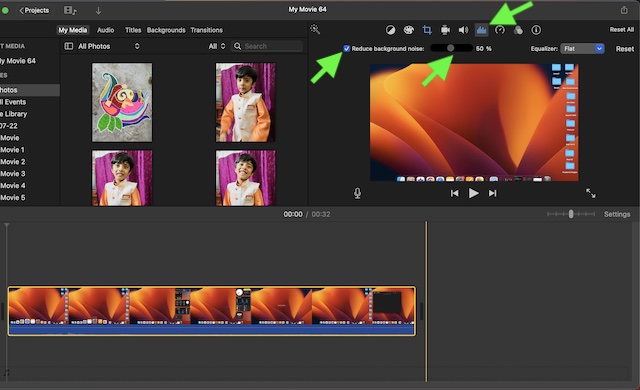 Notably, you can also use the Equalizer tool to further improve the quality of your video. Click on the the drop-down menu next to Equalizer and then choose from options like Voice Enhance, Music Enhance, or Hum Reduction as per your needs.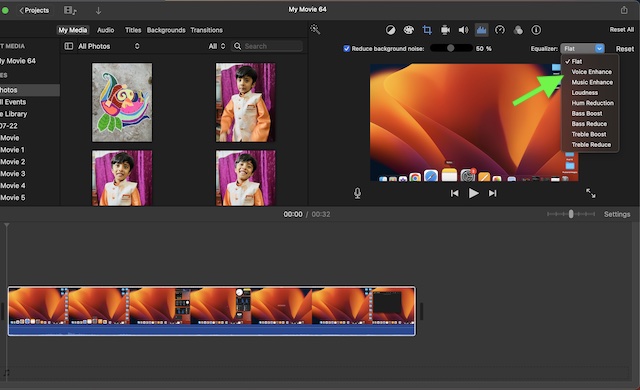 Stay Tuned In For Such Handy macOS Tips…
There you go! So, that's how you can suppress the background noise in any video on your Mac. As I said above, iMovie is more than capable to let you create nice-looking clips or hands-on tutorials for your YouTube channel.
So, never fail to make the most of this built-in app. To help you master this video editing app, I will keep sharing the related tips and tricks. Hence, be sure to stay tuned in with us so that you won't miss any iMovie guides.