In the wake of the COVID-19 pandemic, Zoom has emerged as the most loved video conferencing app. Don't get me wrong! Rivals like Google Meet and Microsoft Teams have got everything covered to be your go-to service.
However, Zoom has managed to win most people thanks largely to its easy-to-use features and the comparatively less learning curve. Hence, it's good to have the flexibility to use iPhone as webcam for Zoom on Mac. 
If that's precisely what you are looking for, let me help you set up Zoom!
So, How Do You Convert iPhone into a Webcam for Zoom?
Before we begin, let's sort out a couple of fundamental questions! Earlier, we had to rely on third-party tools to turn iPhone into a webcam. But that is no longer the case today due largely to the introduction of the Continuity Camera Webcam feature on Mac and iPhone. Hence, you will need to have the latest version of macOS and iOS to be able to use this feature. 
Make Sure Your iPhone Supports Continuity Camera Webcam 
To get going, be sure you have a compatible iPhone. Since only the latest iPhone models support Continuity Camera Webcam, ensure that your device is onboard. Here is the list of devices that are compatible: 
iPhone XR
iPhone XS
iPhone XS Max
iPhone 11
iPhone 11 Pro
iPhone 11 Pro Max
iPhone 12
iPhone 12 mini
iPhone 12 Pro
iPhone 12 Pro Max
iPhone 13
iPhone 13 mini
iPhone 13 Pro
iPhone 13 Pro Max
iPhone SE 2 (2020)
iPhone SE 3 (2022)
iPhone 14
iPhone 14 Plus
iPhone 14 Pro
iPhone 14 Pro Max
Set Up and Use iPhone As Webcam for Zoom on Mac
1. To get started, launch Zoom on your Mac.
2. Now, click on the Settings icon at the top right corner of the screen.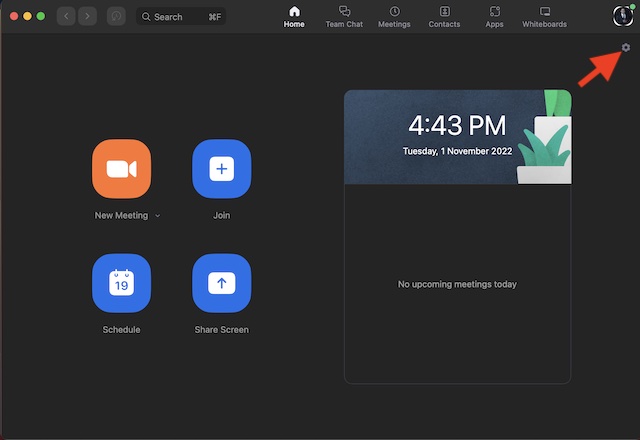 3. Next, select Video in the left sidebar. 
4. Under the Camera section, click on the downward arrow and choose iPhone Camera.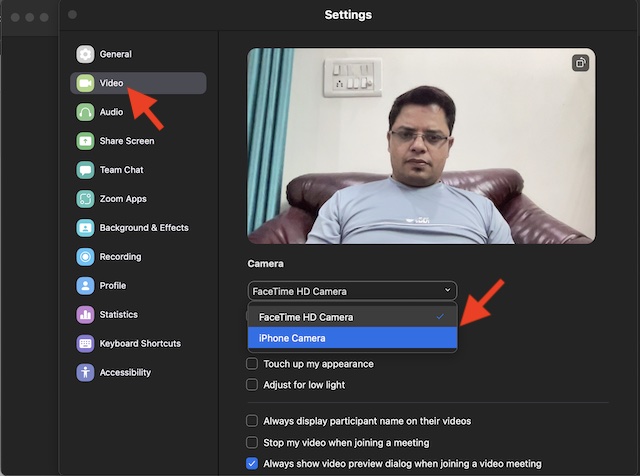 That's done! Now, go ahead with your meeting as usual. 
Customize Continuity Camera Settings on Mac 
If you want to enhance the video conferencing experience, fine-tune the Continuity Camera settings to your liking.
1. Click on the Control Center icon at the top right corner of the screen.
2. Then, click on the Video Effects tile.
3. After that, choose from the following options: 
Center Stage: It's designed to always keep you in the frame to enhance your video calling experience.
Portrait Mode: It lets you blur the background.
Studio Light: Choose it to dim the background and brighten up your face. 
Desk View: Select it to get the impressive top-down camera view without needing extra equipment.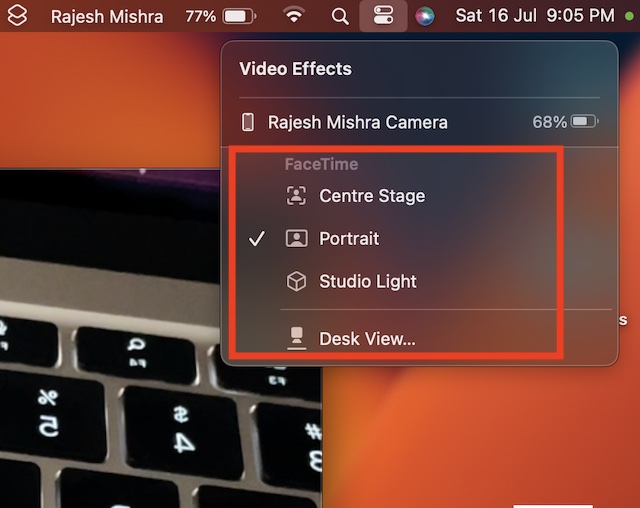 It's worth pointing out that you can select multiple Continuity Camera features at once. If you find it ill-functioning, check out our detailed guide to resolve the problem.
Wrapping up…
That's pretty much it! So, that's how you can set up and use iPhone as a webcam for Zoom on your macOS device. Whether you are a student or a 9to5 professional, this feature can come in super handy in several situations.
As someone who is very fond of Zoom, I'm glad that Apple has allowed third-party services to take advantage of Continuity Camera. Considering the fact that FaceTime is restricted to the Apple ecosystem, it's a good move to allow users to make the best use of this notable addition to iOS and macOS.
What do you have to say about it? It would be great to have your thoughts in the comments below.