Though the Apple Photos app boasts a wide range of editing tools to adorn your images, it lacks the ability to let you resize images on iPhone. As someone who often has to fine-tune photos for sharing on social networking sites, I find the absence of this essential tool perplexing.
I guess I'm not alone to want this feature at the earliest. But there is no need to be disappointed as there are several impressive third-party image resizers for iPhone to fill up the void. With that in mind, let's get on with the guide!
Which are the Best Image Resizer Apps for iPhone?
Can't decide which one is an ideal image resizer app for your iOS device? It would be better to first answer this important question. There is no dearth of image resizer apps in the App Store. Though very few of them can let you resize images with the needed precision and flexibility. Not to mention, many of them demand a steep learning curve and are paid.
Having given a long spin to many image resizers, I have found these apps up to the task.
Image Size: Free, supports iPhone, iPad, and iPod touch running iOS 11 or later.
Image Compress & Resize Easily: Free, compatible with iPhone, iPad, and iPod touch running iOS 13 or later.
Photo & Image Resizer: Free, works with iPhone, iPad, and iPod touch running iOS 12 or later
All these apps feature simple user-interface and are easy to use. On top of all, they are universal and support even older operating systems.
Step-by-Step Guide to Resizing Images on iPhone
In this guide, I'm going to use the Image Size app. Hence, make sure to download the app to follow the steps along with me.
1. First off, open the Image Size app on your iPhone.
2. Now, enter the width and height of your image.
3. Do note that the app saves your image in PNG format. However, you can choose to save your image in JPEG or HEIC format. To do so, tap on the Settings icon at the top right corner of the screen. Then, select the JPEG or HEIC format as per your needs. Even better, the app also allows you to print your image. To do so, head over to the print quality section and then do the needful.
4. After that, select the pixel, cm, mm, inch, or s pixel. Since most people use pixel, I'm going to pick this one.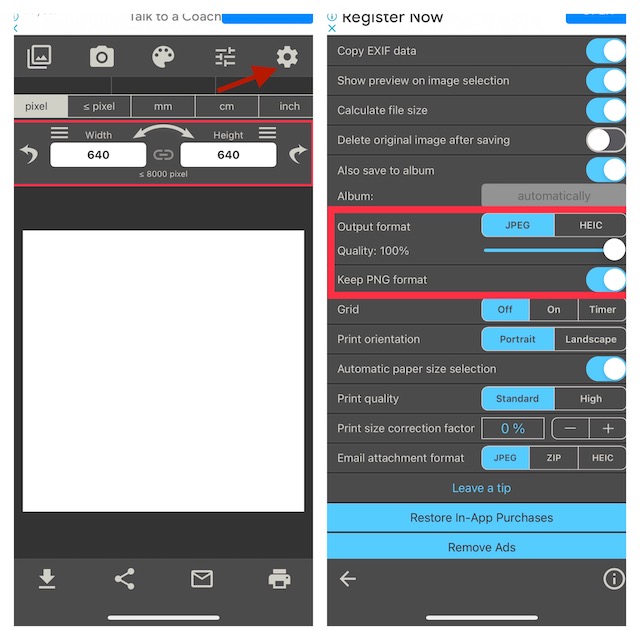 5. Next up, tap on the Photo icon at the top left corner of the screen. Then, choose a preferred image from your photo library.
6. If you want to save the image to your photo library, tap on the downward arrow at the bottom of the screen.
7. But, if you want to share your image, tap on the Share icon at the bottom of the screen. Then after, choose the desired app in the share sheet.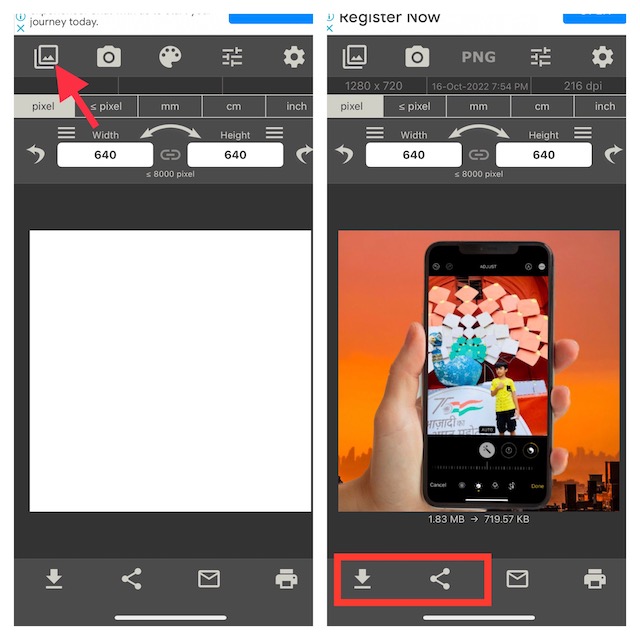 Signing Off…
There you have it! So, that's how you can fine-tune the size of images with the enhanced control on iOS. Until Apple comes up with a built-in image resizer tool, make the most of these apps to get your work done. Do you have any related questions? If yes, use the comments section below to shoot 'em up.