Designed to amp up your productivity game by automatically organizing apps and allowing you to switch between apps with utmost ease, Stage Manager is a notable addition to iPadOS. No wonder, both experts and users have praised this new add-on.
Though it works like a charm on iPad without any sluggishness, some users have reported that Stage Manager either does not show up or simply fails to perform expectedly. But there is no need to panic as we have already listed out some handy tips to fix Stage Manager not working on iPad.
Why is Stage Manager Not Working on My iPad? 
To get going, let's figure out the reasons that could be preventing Stage Manager from functioning!
Having checked several complaints, I can say that the issue seems to be a result of a software bug. iPadOS appears to be plagued with too many issues. Hence, you should not be surprised to know that a software bug could be triggering the Stage Manager not working problem.
Fix Stage Manager Not Working on iPad
Apart from a software bug, there could also be a once-in-a-blue-moon glitch. On top of all, device incompatibility is the sort of thing that could be in the play as well. 
1. Make Sure Your iPad Supports Stage Manager 
The reason why I have put the compatibility thing at the very beginning is that not all iPad devices are compatible with Stage Manager. So, if you were hoping that your brand new iPad mini or fully capable iPad would be able to get Stage Manager, you would be really disappointed. 
Here is the list of devices that support Stage Manager: 
iPad Pro 12.9-inch (3rd generation and later) 
iPad Pro 11-inch (1st generation and later)
 iPad Air (5th generation)
2. Turn Off/On Stage Manager 
At times, all you need to do to fix an ill-functioning feature is to just soft reset it. Hence, give it a try. 
Bring up the Control Center on your iPadOS device -> tap on the Stage Manager icon to turn it off.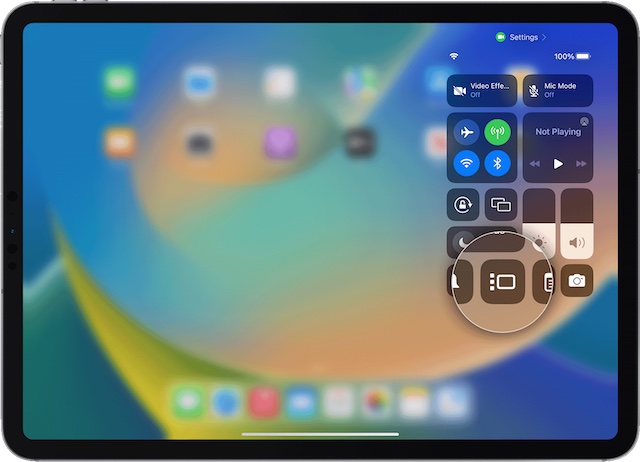 Now, restart your iPad. Once your iPad has rebooted, go to the Control Center and then turn on Stage Manager. 
When the Stage manager is active, the window you are currently working on shows in the center of the screen. And other apps automatically appear in the list of recent apps. Hence, you can switch between the apps seamlessly. 
If the Stage Manager has now started to work, as usual, you have gotten the better of the problem.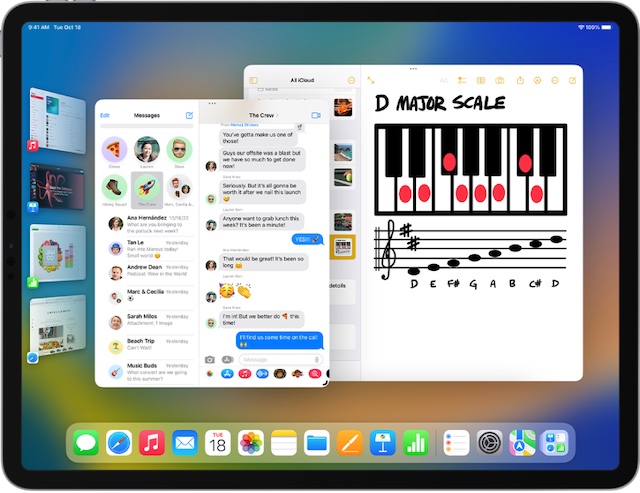 3. Hard Reset Your iPad 
When you have a common or weird issue to tackle, you should never fail to bring hard reset into play. The ability to flush out temporary files and free up plenty of memory makes it highly effective. 
Press and quickly release the volume up button. Then, press and quickly release the volume down button. 
After that, hold down the top or the power button until the Apple logo appears on the screen. 
4. Factory Reset Your iPad 
If Stage Manager continues to misbehave on your iPad, it would be wise to go for a factory reset. Whether it's fixing a persistent bug or a common problem, it's up to the task. Note that it will remove all the existing settings and bring them back to the default state. 
Head over to the Settings app on your iPad -> General -> Transfer or Reset iPad -> Reset -> Reset All Settings. 
Once you have successfully factory reset your iPad, turn on Stage Manager and try using it to check if you have resolved the problem.
5. aUpdate Software on Your iPad
Should the problem persist, it would be wise to update the software. As already discussed above, iPadOS is quite buggy. Therefore, this issue seems to be a byproduct of a bug. 
Launch the Settings app on your iPad -> General -> Software Update. 
Now, allow your iPad to check for updates. If there is an update available, download and install it. 
Fixed Stage Manager Not Working Issue on iPad…!
That's pretty much it! So, these are ways through which you can bring Stage Manager back on track. In most cases, a soft reset is all you need to troubleshoot this issue.
However, if it does not click for you, tips like hard reset and software updates would get the job done. That said, would you like to share the name of the solution that has worked for you?