Emojis have become a must-have arsenal for my messaging. Whether I'm talking to a dear friend or bantering with a colleague, emojis come into play thanks to the ability to choose from a variety of readymade options to express different emotions.
I'm sure you would also be pretty much in the same boat as me. To further spice up your messaging experience, Apple lets you use emojis as stickers in Messages in iOS 17 on iPhone and iPad. Let's head over to find out how this latest addition to iOS works!
Convert Emojis into Stickers in Messages on iPhone and iPad 
I know you must be thinking about how to convert an emoji into a sticker. Well, you don't have to do anything to take advantage of this iMessage feature. So long as you know how to drag and drop an item, you can make the most of it while chatting with your dear ones. If anything; I would recommend you practice the lesson of resistance. Otherwise, your chat thread won't take much time to get cluttered with a ton of large emojis-turned stickers. 
To begin with, ensure that you have enabled iMessage on your iPhone and that your device is running iOS 17 or later. Go to the Settings app on your iPhone/iPad -> Messages -> turn on the toggle for iMessage and make sure that it has been activated successfully. To update the device, open the Settings app -> General > Software Update and then download and install the latest iOS update. 
Once you have perfectly taken care of the basic requirements, launch the Messages app on your iPhone or iPad. 
Head over to an iMessage conversation thread where you would like to use emojis as stickers. 
Now, tap on the text input box to bring up the keyboard.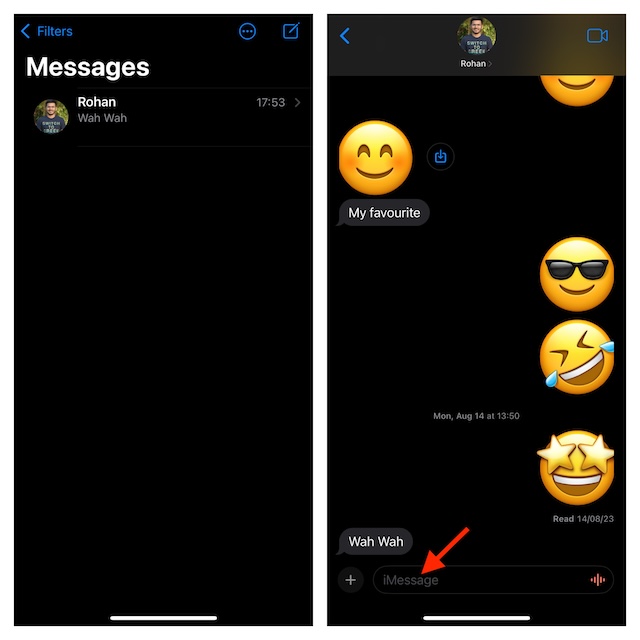 Now, hit the Emoji button in the bottom-left corner of the on-screen keyboard. 
Then, press and hold on to an emoji that you want to use. 
After that, drag the emoji and drop it on the message bubble that you would to react to in the conversation thread.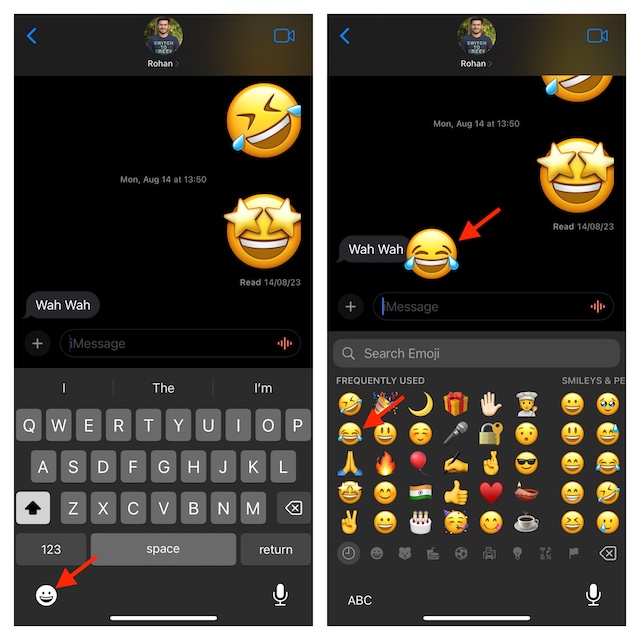 And that's done! As iOS allows you to drag more emojis onto the same message bubble, you can get the most out of this functionality to add more fun to the reaction. So, go your all out to break the laughter.
Edit or Delete Emoji Stickers in iOS 17 and iPadOS 17
Later, if you want to delete the emoji stickers for any personal reason, you can do so with ease. 
In the Apple Messages app, open the conversation thread. 
Then, press and hold the emoji and then choose the Sticker Details option in the popup menu.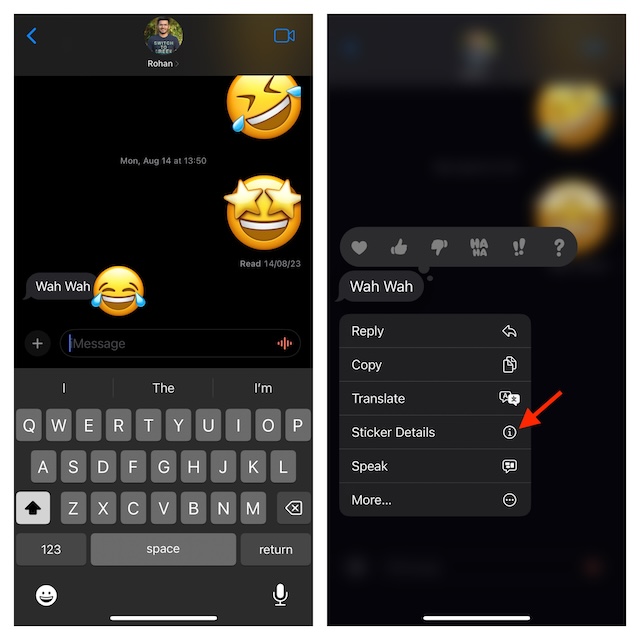 In order to delete an emoji sticker, just swipe left on it.
Next, tap on the red Trash button to remove the sticker. 
As is always the case, do not forget to hit the Done button to finish.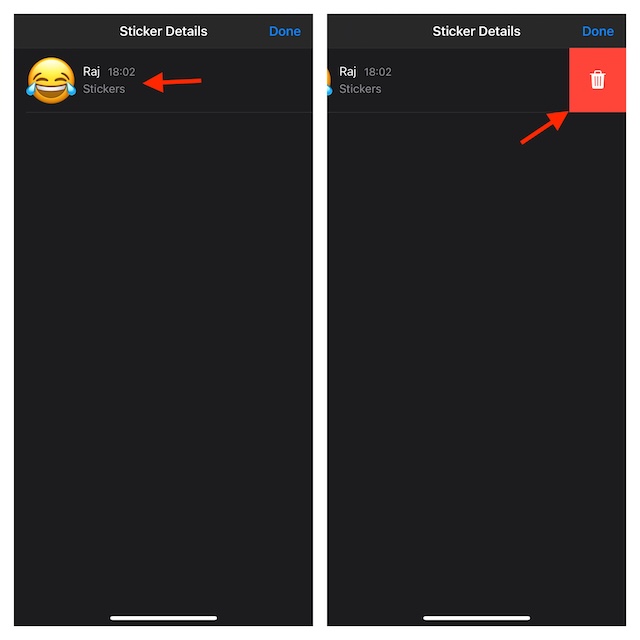 Bottom Line…
That's all there is to turning emojis into stickers works on iPhone and iPad. I know you have mastered this nifty but cool iMessage feature. Enough talk, use this new iOS 17 feature, and let us know whether or not it has succeeded in bowling you over. 
Next reading: How to Record and Send Video Messages via FaceTime on iPhone in iOS 17